I was watching some of arquebuser's videos, and I noticed something interesting after taking note of HP / BP gains during model changes:
Base Wing to Valiant Wing netted him a 40 HP bonus and a 10 BP bonus. Valiant Wing to Stripe Wing was +60 HP / +15 BP. Stripe Wing to Panzer Wing was +90 / +23; Panzer Wing to Eye Wing was +135 / +34, and Eye Wing to Arm Wing was +203 / +51.
It seems like the HP gained during a model change is equal to 150% of the HP you gained on the previous model change. For instance, he gained 40 HP on his first model change, 60 HP on his second (150% what he earned from the previous), 90 HP on the third (150% of the previous 60 HP), 135 HP on the fourth (150% of the previous 90 HP gain), and 203 HP on the last (or approximately 150% of the previous 135 HP gained).
I may have just been being silly in my boredom (I'm setting up to try replaying Saga; I got through disk three when my previous computer crashed), and I thought I may have noticed something interesting. Is this accurate, though? Do model changes always give consistent HP / BP gains? And do the Light Wing and Solo Wing models give similar bonuses? If so, that would be pretty amazing, if the pattern holds; +305 / +77 for Light Wing and +458 / +116 for Solo Wing.
Anyway. enough with my rambling.
Edit: I just found some pictures from someone else's game (not from the videos I had been watching):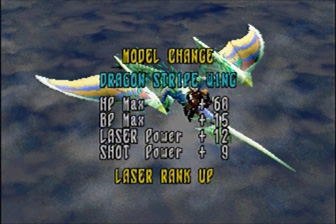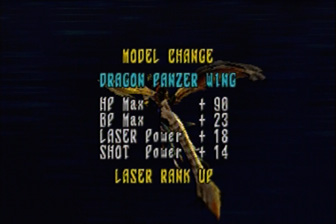 It seems that my consistency question has been answered, but does this pattern hold true for the gains from the hidden model changes?